News
27/05/2015
Philharmonic Hall, Szczecin (Poland)
At the beginning of this May, the Philharmonic Hall project in the city of Szczecin, Poland, was awarded with the
Mies van der Rohe Award, considered to be one of the most prestigious and important prizes in European architecture.
EUROPERFIL provided the roof profile for this project collaborating from the very first stages with the architect studio.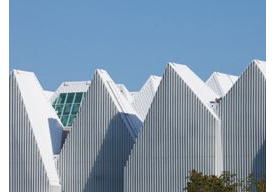 The unique roof of the Philharmonic Hall, considered by the jury to be a contemporary monument, was built with the trapezoidal metal sheet profile EUROMODUL 44 made of 1mm thick aluminium and with Rubí Excel coating in a special white color, achieving an innovative and unique effect.
Continual innovation and collaborative work with international architecture studios has allowed EUROPERFIL to take part in recognized projects, such as the Philharmonic Hall.